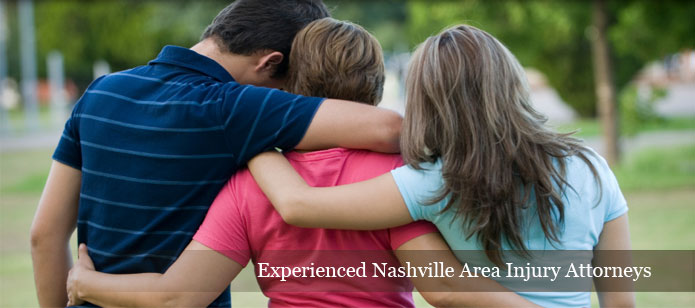 Personal Injury Attorneys In The Nashville Area
Personal injury covers a broad range of physical and financial harm which includes physical injuries, property damage, and the loss of loved ones. You may be facing all of these issues stemming from a single event. Our personal injury attorneys near Nashville understand the needs of personal injury victims and the challenges you face. We are ready to fight hard on your behalf.
Getting Started
The first thing you need to know is that your initial consultation is free. The last thing that you need to worry about right now is another expense, just to find out if you have a case and if it is worth pursuing. We also work on a contingency basis. We do not ask for a retainer or other up-front fees from personal injury clients. We only get paid if you get paid.
Even with no financial risks involved, the idea of trying to take on a lawsuit while you are trying to recover physically from your injuries can seem overwhelming. You need the help of Nashville area personal injury attorneys who truly care about their clients and are willing to do everything they can to make the process easier for you. We promise to treat you with respect and to return your phone calls promptly. If your injuries do not permit you to travel, we can come see you in your home.
Compensation for Personal Injury
The unique facts in your case will determine what kind of compensation you may receive. In general, compensation for personal injury can include:
Medical expenses
Future medical expenses
Lost income
Future lost income
Loss of earning capacity
Pain and suffering
Mental anguish
Disability
Disfigurement
Loss of consortium
Property damage
Wrongful death
If you or a loved one has been injured or killed due to someone else's negligence or wrongdoing in Nashville or anywhere in Tennessee, please call our personal injury attorneys in the Nashville area at 1-877-LOSS RECOVER (1-877-567-7732) or submit an online questionnaire. Your initial consultation with our personal injury attorneys near Nashville is free of charge and if we agree to handle your case, we will work on a contingency fee basis, which means we get paid for our services only if there is a monetary recovery of funds. In many cases, a personal injury lawsuit must be filed before an applicable expiration date, known as a statute of limitations. Please call right away to ensure that you do not waive your right to possible compensation.